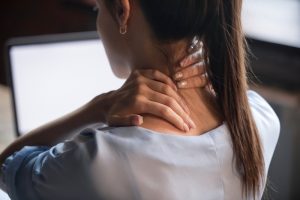 Why choose chiropractic care for workplace injuries?
An injury on the job affects your health and your ability to work. It is vital that you treat the underlying injuries; otherwise, you risk a recurrence of the injury after return to work. Yet many conventional treatments focus on treating the symptoms using pain medication, rather than treating the underlying causes. For this reason, chiropractic adjustments are a better choice for treating many workplace injuries.
When to See a Chiropractor
It's important to choose the right medical care based on your injuries. While you'd see a doctor to treat a deep cut that requires stitches, a chiropractor is a better choice for workplace injuries that involve:
neck pain
back pain
herniated disc
carpal tunnel
frozen shoulder
shoulder pain
slipped disc
repetitive muscle strains and sprains
ergonomic injuries
knee pain
joint pain
The first phase of chiropractic treatment reduces inflammation and pain. Many patients feel a reduction in their symptoms after the initial appointment. When inflammation is reduced, a chiropractor will then adjust the tissue, joints, and spine to restore the body's natural alignment and break apart scar tissue. This helps you regain the full range of motion you enjoyed before the injury. A chiropractor will also demonstrate stretches and corrective exercises, which you can do in between appointments and when treatment ends to maintain optimal health.
Chiropractic vs. Conventional Treatment
If you have never had chiropractic treatment before, then you may wonder how it differs from conventional medical care. Here are a few of the ways that chiropractic adjustments differ from conventional treatment of the workplace injuries mentioned above.
No medication required – Doctors rely on pain medication as a first-line treatment for injuries. However, pain medication has been overprescribed in the U.S., and many people are leery of taking it on account of the prescription drug epidemic. Chiropractic care does not include pain medication; many chiropractors believe that medication simply hides the pain, rather than healing the injury. There is no worry of becoming addicted to pain pills when you try chiropractic care.
Safe complementary treatment – Chiropractic care is a standalone treatment of workplace injuries that is gentle and effective for all ages. Individuals who have underlying health conditions may prefer chiropractic care, because there are no contraindications with the management of preexisting conditions.
Addressing the root – While conventional medical care does heal the presenting injury, much of the focus is on masking pain symptoms. Chiropractic care looks at the structural elements within the body that are affected by the injury and restores the body's natural alignment. This alleviates pressure of joints and muscles, promotes natural posture, and heals soft tissue that was damaged. The result is a full recovery from the injury.
With a better understanding of workplace injuries chiropractors treat and what to expect when you see a chiropractor, you can assess your injuries and decide on the best treatment method. What's more, you will be able to make a full recovery and return to the job you enjoy with no lingering side effects from the incident.
About Dr. Eric Chesloff
Dr. Eric Chesloff, D.C., Ph.D, is a board-certified chiropractor serving the Philadelphia Main Line since 1984, including Lower Merion Township, Haverford Township, Radnor Township, Tredyffrin Township, Easttown Township, Willistown Township, Montgomery County, Delaware County, and Chester County. Services provided include gentle spinal adjustments, sports injury care, family care, auto accident care, and health education.
BRYN MAWR CHIROPRACTIC CARE
Eric G. Chesloff, D.C., Ph.D.
Rosemont Plaza
1062 Lancaster Avenue
Suite 15-I
Rosemont, PA 19010
(610) 527-8491
DrChesloff@BrynMawrChiropractic.com
www.brynmawrchiropractic.com
Hours are by appointment, Monday through Saturday. Insurance is accepted, as applicable. Dr. Chesloff is a Medicare provider.